Yair Emanuel Rectangular Tzedakah Box - The Seven Species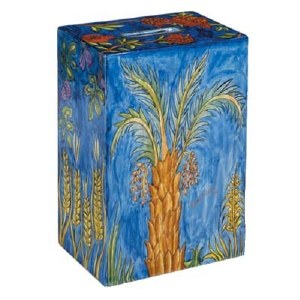 Yair Emanuel Rectangular Tzedakah Box - The Seven Species
Brand: Yair Emanuel
By: Yair Emanuel
Product ID: EMTZS7

Rectangular Tzedakah Box -The Seven Species
By: Yair Emanuel

Product Description
This beautiful rectangular tzedakah (charity) Box is the perfect way to beautify the mitzvah of giving charity. It's a great piece to use to teach your children the foundational belief of helping others and doing good deeds.
The design features the colorful motif of the "seven species" of Israel (wheat, barley, grape, fig, pomegranate, olives and date).
The tzedakah box is hand-painted with acrylics in vibrant color, and then is lacquered to keep the paint fixed and run-free.

This tzedakah box will be your perfect gift for Bar Mitzvah and Bat Mitzvah, wedding, new home, Hanukkah present and as synagogues gifts for Simcha's.

Size: 5" X 3.5" X 2.5"

About the Artist:
In his Studio, located in Jerusalem, Emanuel designs various Judaica products.
The designs are based upon a fusion of traditional motifs and ancient Jewish manuscripts with modern and oriental art.

Vivid and harmonious colors as well as a mixture of the old and the new, characterize Emanuel's work.

The Artist, Yair Emanuel, designs and crafts in many different techniques. Among his techniques are hand embroidery, painting on wood, painting on silk and a variety of metal designs.