Yair Emanuel Jerusalem Besamim Holder with Cloves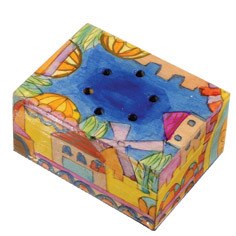 Yair Emanuel Jerusalem Besamim Holder with Cloves
Brand: Yair Emanuel
By: Yair Emanuel
Product ID: EMSB3

Jerusalem Besamim Holder with Cloves
by Yair Emanuel

Product Description
This decorative spice box is the perfect addition to your Havdalah ritual. The spice box is detailed sides with a beautiful view of Jerusalem.
The stunning wooden boxes are painted with acrylic colors and then sealed with lacquer.
Cloves are included.

Dimensions: 2in x 1.6in x 1in

About the Artist:
In his Studio, located in Jerusalem, Emanuel designs various Judaica products.
The designs are based upon a fusion of traditional motifs and ancient Jewish manuscripts with modern and oriental art.

Vivid and harmonious colors as well as a mixture of the old and the new, characterize Emanuel's work.

The Artist, Yair Emanuel, designs and crafts in many different techniques. Among his techniques are hand embroidery, painting on wood, painting on silk and a variety of metal designs.