YE Full Embroidered Matzah Cover Set Oriental Gold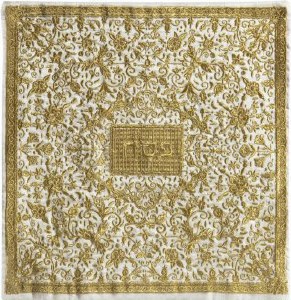 Yair Emanuel Embroidered Matzah Cover Oriental Gold
Brand: Yair Emanuel
By: Yair Emanuel
Product ID: EMMMC5

Full Embroidered Matzah Cover Oriental Gold
by Yair Emanuel

Product Description
These gorgeous matzah covers are a beautiful addition to your Passover table. In the middle of each cover is embroidered the word Pesach in Hebrew, celebrating our liberation from slavery in the land of Egypt.

About the Artist:
In his Studio, located in Jerusalem, Emanuel designs various Judaica products.
The designs are based upon a fusion of traditional motifs and ancient Jewish manuscripts with modern and oriental art.

Vivid and harmonious colors as well as a mixture of the old and the new, characterize Emanuel's work.

The artist, Yair Emanuel, designs and crafts in many different techniques. Among his techniques are hand embroidery, painting on wood, painting on silk and a variety of metal designs.

Material: Full Embroidered
Color: Gold
Approximate Size: 15.75" x 15.75"