The Thirteenth Gate [Hardcover]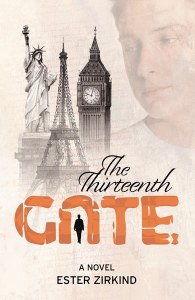 The Thirteenth Gate [Hardcover]
Brand: Israel Book Shop
By: Ester Zirkind
Product ID: 9798886730258

Click here to see inside pages
For decades, the only way forward for Sima Hertzberg was to push all thoughts of her estranged brother out of her mind - and she was almost successful. Yet when a series of unconnected events puncture the bubble of her carefully constructed life, she is forced to revisit - and resolve - the haunting and formidable past.
Against the backdrop of a tragic terrorist attack in Eretz Yisrael, and its consequential retaliation that results in riots across the globe, one family struggles to overcome the mistakes of the past while simultaneously working to ensure that those mistakes are not repeated.
Can the resentment teenaged Tamar bears toward her mother be resolved by giving closure to painful events that occurred when Sima herself was a teen?
Can a valiant Jewish hero - who found himself unprepared for life in an ordinary world - be forgiven for the terrible mistakes he made as a father?
Can a sensitive soul, who's been pummeled, disgraced, and failed by those nearest and dearest to him, muster up the fortitude to listen to the tiny, still voice calling out from within?
The Thirteenth Gate is a deeply moving story of faith, forgiveness, and family ties. It explores some hot-button issues facing our community, with insight, authenticity, and finesse.
A Novel by Ester Zirkind
Author of Where Is the Daughter I Raised?
Binding: Hardcover
Size: 6" x 9"
Pages: 351
Reading age: 12 and up
Publisher: Israel Bookshop Publications
Release Date: October 2022
ISBN: 979-8-88673-025-8
The Thirteenth Gate [Hardcover]
By: Ester Zirkind