The Complete Siddur Koren Kol Yaakob in Spanish Nosah Aram Soba Edut Mizrach [Hardcover]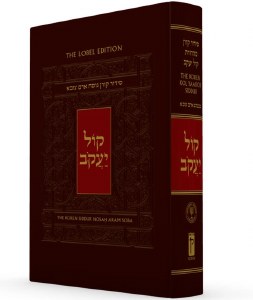 The Complete Siddur Koren Kol Yaakob in Spanish Nosah Aram Soba Edut Mizrach [Hardcover]
Brand: Koren Publishers
By: Jonathan Sacks, Shelomó Ezra Antebi Sacca
Product ID: 9789657767078

Click here to see sample pages
The Siddur Koren Kol Yaakob in its Spanish edition was made emphasizing fidelity to the customs of Aram Soba, preserving the tradition as it was transmitted and cared for by the Aram Soba Communities throughout the world. The work was carried out based mainly on the customs of the Aram Soba Jews who immigrated to Buenos Aires at the beginning of the 20th century.
The Siddur has the beautiful translation and commentary of Rabbi Lord Jonathan Sacks (originally in English), as seen in other editions of The Shalem Siddur. The Spanish translation was done by Rabbi Israel Diament.
Special features incorporated in this edition:
Nusach is based on the customs of the famous community of Aram Soba, a renowned city of scholars dating back centuries. Aram Soba's prayers and traditions are kept alive in Syro-Sephardic communities around the world.
Complete Tefilla text for Chol, Shabbat, Chagim, Fast Days and Torah readings for Minchá of Shabbat, Monday and Thursday.
Published in collaboration with the Sepharadic Heritage Foundation, with Rabbi Shelomo Ezra Antebi Sacca as Editor-in-Chief.
Binding: Hardcover
Pages: 1244
Nusach: Edut Mizrach
Language: Hebrew/Spanish
The Complete Siddur Koren Kol Yaakob in Spanish Nosah Aram Soba Edut Mizrach [Hardcover]
By: Rabbi Shelomo Ezra Antebi Sacca