Tenaim Floral All Versions by Chaim J. Bernath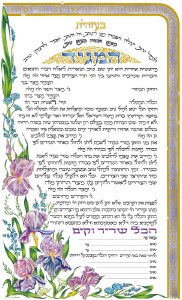 Tenaim Floral Bouquet Standard Nachlat Shiva Edition 11" x 17"
Brand: Calligraphix
By: Chaim J. Bernath
Product ID: TFBS

Full color artistic lithographs enhanced by gold stamping
Original, hand drawn calligraphy
High quality, acid free, natural white paper
Comes with a sturdy decorative tube
11" x 17"

About the Artist:
Chaim J. Bernath's fascination with illuminating Jewish texts goes back to his days as a boy in yeshiva. The connection of art and Torah developed and deepened; today, Chaim's work reflects a rich appreciation for the depth and beauty of Jewish traditional texts. Gathering ideas from many different sources, both traditional and modern, he developed his unique style-a combination of deep, rich colors, graceful lines and fine detail that translate into magnificent pieces of Judaic art.

Hebrew calligraphy is an ancient tradition going back thousands of years. Some magnificent illuminated manuscripts, particularly ketubot, have survived for centuries. "It's fascinating how fresh and new some of their designs are," Chaim notes. "I love to borrow from those old ketubot, combining their techniques with a contemporary style. It's a form of connecting with Jewish artists and calligraphers from the past, in a very unique way. I get to borrow from their beautiful designs, and my art serves to preserve their work and bring it into into the present."

Each ketubah is hand-drawn, with artist's pencils, inks, pastels and gold-tone illumination.
"I enjoy the creative process immensely," Chaim says. "Some designs include traditional Jewish symbolism, and some are inspired by classic designs or just my imagination. When making a new ketubah, I like to blend ancient symbols, modern techniques, and quotes from the Bible, Talmud and Midrash."

Material: Acid Free Paper
Size: 11" x 17"
Language: Hebrew

Tenaim Floral Bouquet
Standard Nachlat Shiva Edition 11" x 17"