Seder Plate Crystal Designed with Silver Swirls and 6 Elevated Bowls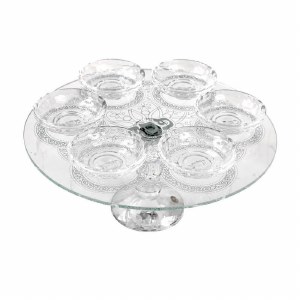 Seder Plate Crystal Designed with Silver Swirls and 6 Elevated Bowls
Product ID: 7291061236702

Seder Plate Crystal Designed with Silver Swirls and 6 Elevated Bowls

Product Description
Material: Glass
Color: Silver
Height: 5"
Diameter: 17"

This elegant seder plate is a wonderful way to bring class and elegance to your Pesach table. Smooth edges, silver swirl design and elevated seder bowls add glint, twinkle and gleam to this already glamorous piece! It radiates a beautiful shine and spreads the light in all directions!

The kaarah has six elevated crystal bowls for the six traditional Passover symbolic foods.

This is your perfect gift for Passover, weddings and the new home.