Plastic Seder Plate Vine Design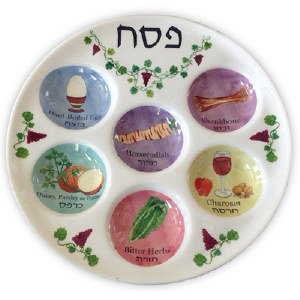 Plastic Seder Plate Vine Design
Brand: Cazenove Printers Ltd
By: Kishon Cohen
Product ID: 5060076434265

Disposable Seder Plate DSP-775

Product Description
This disposable kaarah will add color to your Pesach seder table. Each of the symbolic foods is written in English and Hebrew.
UPC 5060076434265
Material Plastic
Diameter: 10"

10" High Quality Plastic Disposable Seder Plates
Indents with Pictures for Each of the Traditional Foods
Hebrew and English Text
Great for Kids and Adults alike
Made of thin, hard plastic, maintains its shape and water proof, easy to use, advisable to wipe before use. Not suitable for hot food

Great Seder plate to buy in bulk for large Seder events!