Mr. Beep's Boxes [Hardcover]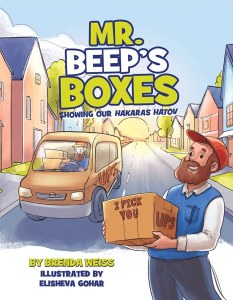 Mr. Beep's Boxes [Hardcover]
Brand: Israel Book Shop
By: Brenda Weiss, Elisheva Gohar
Product ID: 9798886730999

Click here to see sample pages
I'm sure you have seen UPS vans on your street,
But there's one UPS man you really must meet.
Mr. Beep loves his boxes, knows them all inside out,
Each one packed with a story - you're soon to find out!
You'll delight in what follows his knock on each door,
As you discover what UPS really stands for...
Binding: Hardcover
Size: 8.5" x 11"
Pages: 25
Publisher: Israel Bookshop Publications
Release Date: August 2023
ISBN: 979-8-88673-099-9
Mr. Beep's Boxes [Hardcover]
By: Brenda Weiss
Illustrated by: Elisheva Gohar