Honey Dish Silver Plated With Spoon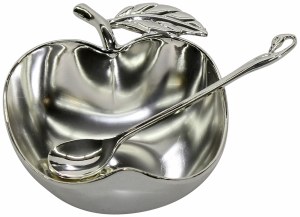 Silver Plated Honey Dish Apple Shape with Spoon #HD550

Product Description
Material: Silver Plated
Color: Silver
Approximate Diameter: 4"

This beautiful dish will surely enhance your Jewish New Years Eve / Rosh Hashana table.
Gift Boxed!
Makes a great gift idea!

One of the best known and most beloved traditions of Rosh Hashanah (the Jewish New Year) is the eating of simanim (symbolic foods) at the evening meal. Each one is supposed to convey an aspect of blessing or fortune for the upcoming year.

This stunning honey dish is both decorative and practical in helping you prepare your Rosh Hashanah experience!