Fast Acting Long Lasting [Paperback]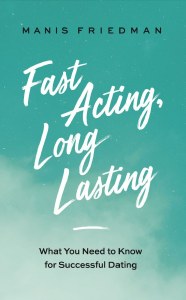 Fast Acting Long Lasting [Paperback]
By: Manis Friedman
Product ID: 9798985447743

LEARN THE REAL SECRETS TO SMART, SANE DATING

For more than four decades, renowned author and speaker Rabbi Manis Friedman has been counseling and teaching about marriage, love, and intimacy, empowering men and women to create healthy, long-lasting relationships. Now, in Fast Acting, Long Lasting, he focuses on how to navigate the often challenging and confusing world of dating. With practicality and wit, he shares compelling insights into the real "rules of engagement"—insights we need now more than ever.

In this timely guide, you'll learn the keys to smart and sane dating, including how to achieve the right mindset for dating, how to behave on a date, how to evaluate a potential partner, and finally how to decide to marry. You'll explore why envisioning the future and managing expectations are important, the harmful misconceptions that can sabotage the dating process, how to achieve greater clarity, and the most important thing you can do while single to prepare for a successful marriage. In addition, Rabbi Friedman invites us to appreciate the thoughtfulness and elegance of the traditional Jewish way of dating and its many valuable lessons.

The sage advice and sensible tools you'll learn in this book will not only help you breathe easier while dating but will also make a tremendous difference to your marriage, your children, and your community for years to come.

Binding: Paperback
Size: 5" x 8"
Pages: 72
Language: English
Publication date: April 1, 2023
ISBN-13: 9798985447743

Fast Acting Long Lasting [Paperback]
What You Need to Know for Succesful Dating
By: Rabbi Manis Friedman

About the Author:
Rabbi Manis Friedman
World-renowned author, counselor, lecturer and philosopher, Rabbi Manis Friedman combines ancient Torah wisdom with modern wit to captivate audiences around the world.

He hosts his own critically acclaimed cable television series, Torah Forum with Manis Friedman, syndicated throughout North America and is known as "Youtube's Most Popular Rabbi".

Rabbi Friedman's first book, Doesn't Anyone Blush Anymore? published by Harper San Francisco in 1990, was widely praised by the media. Following the publication of the book, he was featured internationally in over 200 print articles.

In his private practice Rabbi Friedman has helped thousands of couples and individuals achieve fulfilling, balanced relationships, through in-person meetings or remote video consultations.

Rabbi Friedman is a noted Biblical scholar, recognized for his sagacious grasp of Jewish mysticism. In 1971, he founded Bais Chana Institute of Jewish Studies in Minnesota, the world's first yeshiva exclusively for women, where he continues to serve as dean. From 1984-1990 he served as simultaneous translator for the Lubavitcher Rebbe's televised talks.

Born in Prague, Czechoslovakia in 1946, Rabbi Friedman immigrated with his family to the United States in 1950. He received his rabbinic ordination from the Rabbinical College of Canada in 1969 and is a professionally ranked member of the National Speakers Association. His speaking tours take him to every part of this country as well as Israel, England, The Netherlands, South Africa, Australia, Brazil, Venezuela, Peru, Canada, and Hong Kong.

With the launch of itsgoodtoknow.org, Rabbi Friedman is now using the latest technology to spread morality to a wider audience throughout the world through his books, videos and personal meetings. He has made it his mission to reach every one of the billion people on youtube in order to help them improve their relationships and deepen their connection with G-d.
Rabbi Friedman brings a timeless approach based on a true understanding of both our core human and spiritual natures.
With his unique approach, Rabbi Friedman's wisdom has proven to be the answer in many cases where years of conventional therapy was not effective.