English to a T DVD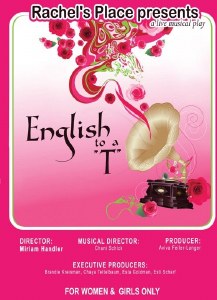 English to a T DVD
By: Rachels Place
Product ID: 705653050722

Rachel's Place Presents: English to a ''T'' - DVD

Product Description
"Change" is the theme of the breathtaking musical-comedy, "English to a T." A Cockney flower girl is transformed into a lady...an indolent dustman must become a meaningful member of society...And a self-absorbed intellectual has to learn to be considerate of others. Join our protagonists on their personal metamorphosis in this sparkling performance which captivated four sold-out audiences in January 2013. Unparalleled acting, a brilliant, witty script, and exuberant song and dance mark this opulent production, replete with exquisite costumes and magnificent stage sets. Following on the heels of the best-selling dvd "The Song of the Hills," "English to a "T" promises to be the next top women's dvd of the decade.

For women and girls only.