Chamisha Chumshei Torah With Shabbos Siddur Nusach Sefard Medium Hard Cover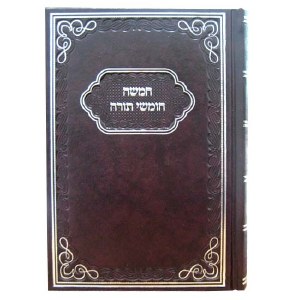 Chamisha Chumshei Torah With Shabbos Siddur Nusach Sefard Medium Hard Cover
Brand: Kaftor Judaica
Product ID: K142P

Chumash - Chamisha Chumshei Torah With Shabbos Siddur Nusach Sefard Medium Hard Cover Hebrew Chumash
Item #: K142PS

Details

Size: Perfect medium size for most handy use.

Dimensions: 5 "x 7 "

Color: Maroon

Binding: Hardcover

Contents: Complete Chumash - Chamusha Chumshei Torah with Rashi and Targum.

Special section in back with Shabbos Siddur - complete guide to all Shabbos Prayers

Paper: 588 Carefully chosen paper for most fluent reading

Layout: Clear and attractive layout. All hebrew text.

Nusach: Sefard

Personalize it: Stamp your logo, monogram, personal text or information, for a customized chumash. You can customize this chumash for your bar mitzvah by stamping your custom monogram. You can stamp the shul name on it.