Asher Yatzar Understanding the Wondrous Body Meaning Halachah Lessons and Stories [Hardcover]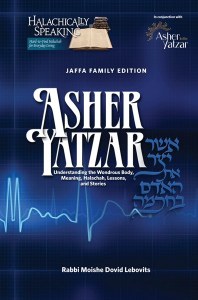 Asher Yatzar Understanding the Wondrous Body Meaning Halachah Lessons and Stories [Hardcover]
Brand: Israel Book Shop
By: Moishe Dovid Lebovits
Product ID: 9798886730197

Click here to see inside pages
We recite this brachah throughout the day. Yet how often do we stop to think - really think - about the meaning of the words or the constant miracles we merit on a daily basis?
Acclaimed author Rabbi Moishe Dovid Lebovits of the Halachically Speaking series has produced a treasure trove of facts, insights, practical halachos, and stories about the miraculous workings of the human body and the wondrous brachah of Asher Yatzar.
This book will fill you with a newfound appreciation of the gift of health and the tremendous power of Asher Yatzar. Never again will you recite this brachah the same way.
Binding: Hardcover
Size: 6" x 9"
Pages: 206
Language: English
Reading age: 12 years and up
Publisher: Israel Book Shop
ISBN-13: 979-8886730197
Asher Yatzar Understanding the Wondrous Body, Meaning, Halachah, Lessons and Stories [Hardcover]
By: Rabbi Moishe Dovid Lebovits