5 Layer Safety Rubbers 9 Sets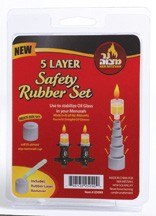 5 Layer Safety Rubbers 9 Sets
Brand: Ner Mitzvah
Product ID: 706132250909

5 Layer Safety Rubbers 9 Sets

Product Description
Package includes 9 full sets of layered safety rubbers. Each set includes 5 layers.
Perfect for all 9 lights of the menorah.
Will fit almost any average size menorah cup
Use exclusively on all types of Ner Mitzvah glass to stabilize the glass on your menorah. These will only work on Ner Mitzvah products.

Diameter of complete set is approximately 0.9"