Yair Emanuel Netilas Yadayim Towel - Embroidered Urchatz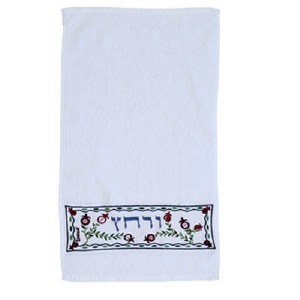 Yair Emanuel Netilas Yadayim Towel - Embroidered Urchatz
Brand: Yair Emanuel
By: Yair Emanuel
Product ID: EMTME10

Emanuel Urchatz Embroidered Netilas Yadayim Towel

Product Description
This towel by Yair Emanuel is made of Chain-stitched embroidery on a high quality cotton towel, using various colors threads.
This soft hand towel features a beautiful and colorful pattern of pomegranates with dainty swirls surrounding them. The word "urchatz" embroidered as a harmonizing part of the design.
This beautiful hand towel will be a perfect addition for the Netilat Yadayim (hand washing) ritual, for kitchen and bathroom use, especially for the Holiday of Pesach Passover where Urchatz is part of the Seder.
Size: 27" x 16.5"