Yair Emanuel Hammered Tzedakah Box Accentuated with Pomegranate Branch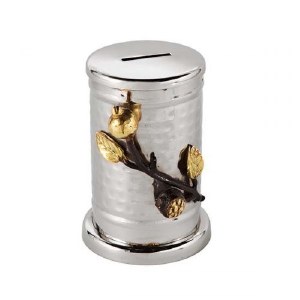 Yair Emanuel Hammered Tzedakah Box Accentuated with Pomegranate Branch
Brand: Yair Emanuel
By: Yair Emanuel
Product ID: EMTZD1

Yair Emanuel Hammered Tzedakah Box Accentuated with Pomegranate Branch
By: Yair Emanuel

Product Description
- Hammered metal tzeddakah box
- Accentuated with decorative pomegranate branch
- Beautiful gift idea!

- Dimensions: 3.25" x 2"
- Color: Silver
- Material: Hammered Metal
- Artist: Yair Emanuel

About the Artist:
In his Studio, located in Jerusalem, Emanuel designs various Judaica products.
The designs are based upon a fusion of traditional motifs and ancient Jewish manuscripts with modern and oriental art.
Vivid and harmonious colors as well as a mixture of the old and the new, characterize Emanuel's work.

The artist, Yair Emanuel, designs and crafts in many different techniques. Among his techniques are hand embroidery, painting and a variety of laser cut designs.