Punchkees DVD Chanukah and Tomatoes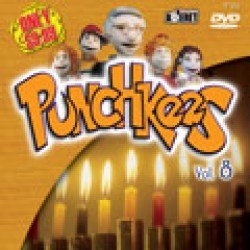 Punchkees DVD Chanukah and Tomatoes
Brand: Aderet Music
By: PUNCHKEES
Product ID: 705653009614

Punchkees Volume 8 DVD- Chanuka & Tomatoes
by Punchkees

What do Chanuka & Tomatoes have in common? They are both featured in this brand new Punchkees DVD. Includes 2 episodes. In episode 30, the children will enjoy as Zeidy tells beautiful stories of Chanuka.

Episode 32 is all about Hashem's wonderful garden varieties. From tomatoes to cucumbers, there is something wonderful about these plants. This is the edible episode.



The Punchkees is an exciting series based on Jewish educational values. It includes episodes about Yomim Tovim (Jewish holidays), Parshas Hashavua (the weekly Torah portion), and other educational topics. Each and every one of the 100 engaging episodes capture a child's imagination and heart, simultaneously instilling wonderful educational lessons about interpersonal relationships, such as treating others kindly, honoring one's parents, foregoing what is yours on behalf of another and many, many more. The practical, yet subtle educational messages are so profound because they are presented through highly entertaining characters with whom childeren can identify. Interspersed with fun and educational lessons on how to interact with others, the Punchkees is designed to spark children's interest and imagination, keeping them entertained for hours. The endearing characters will capture their hearts and the messages will enter their souls. Indeed, after enjoying the first episode, you children will clamor for more, insisting that "The Punchkees make my day!