On This Night [Hardcover]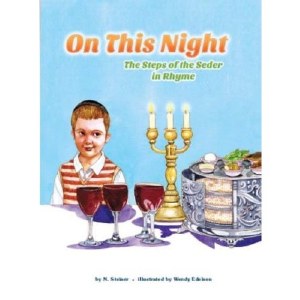 On This Night [Hardcover]
Brand: Hachai Publishing
By: N. Steiner
Product ID: 9781929628513

On This Night: The Steps of the Seder in Rhyme
by N. Steiner illustrated by Wendy Edelson

Product Description
In this inspired picture book, all the steps of the Pesach/Passover Seder are described in lovely rhyming verses. The evocative, full color illustrations truly capture the childhood joy of this meaningful family gathering... and
the feeling that, on this night, we are the ones coming out of Egypt
all over again!

On This Night is one of those classics that belong on every child's bookshelf, to treasure and enjoy. Journey through the Seder, step by step, and even the youngest boys and girls will be prepared for this special night.

A bonus chart at the back of the book lists the steps of the Seder in order, with brief explanations of each.

ISBN: 978-1-929628-51-3
Hardcover / 32 pages
Ages 2-5

About the author:
N. Steiner is a freelance writer and author based in Los Angeles. Her work has appeared in Los Angeles Times Magazine, The Jewish Journal of Greater Los Angeles and Lifestyles Magazine. This is her first children's book.

About the artist:

Born with a paintbrush gripped firmly in her hand, Wendy Edelson is happiest when painting. She has managed to take just enough time away from her drawing board to travel the world, learn how to bake biscotti, dance, grow gardens, be happy, write a children's book, get married, and have a son! On This Night is her first book for Hachai.