Matzah Box Clear Fluted Square with Designed Lid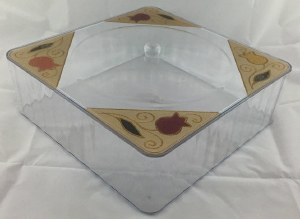 Matzah Box Clear Fluted Square with Designed Lid
Brand: Lily Art
Product ID: PMBMP

Matzah Box Clear Fluted Square with Designed Lid

Product Description
Material: Lucite
Color: Clear with Tan design on cover
Size: Large 12"
By: Lily Art
Fluted Square Matzah Box with Lid.

This stunning lucite box will hold your matzah and add elegance to your Passover table.
Keeps your seder table clean & neat!