Honey Dish Nickel Carved Out Design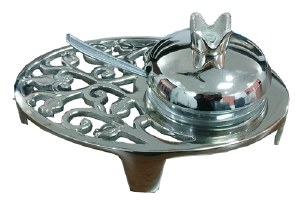 Honey Dish Nickel Carved Out Design
Brand: Majestic Giftware
Product ID: HD1

Honey Dish Nickel Carved Out Design

Product Description
This sharp looking honey dish will fit right in on your Rosh Hashana table. Made of metal and with a cut out tulip design, the honey dish gives of a beautiful and unique look. The dish has a cute pomegranate cover for the glass insert where you can pour your honey!.
Makes a perfect holiday gift!
Both decorative and practical in helping you prepare your Rosh Hashanah experience!

Material: Metal
Spoon included
Height: 9"