×
Everyday Free Shipping and Flat Rate Shipping
Free Standard Shipping on Orders over $129.99
$9.95 Flat Rate Standard Shipping (orders under $129.99)
Offer Details: Free Standard Shipping with any online purchase of $129.99 (merchandise subtotal is calculated before sales tax and customization but after any discounts or coupons). Offer applies to Standard Shipping to one location in the continental USA including Puerto Rico. Orders qualifying for Free Shipping will be identified with "FREE" next to the Standard Shipping option. Orders qualifying for Flat Rate Shipping will be identified with "$9.95" next to the Standard Shipping option. Some items may have a shipping surcharges due to size/weight or special handling required. (These charges are indicated on the appropriate product information pages and will be displayed in the shipping method subtotal of your order.) If you select a shipping method other than Standard, shipping charges will apply accordingly. Offer is subject to change without notice.
Click Here for Shipping FAQ

Tzitzis - A Buyers's Guide of everything you need to know
05/27/2021 at 21:39 pm
Tzitzis  – The complete guide to buy Tzitzit/Tzitzis
Ah, Tzitzit. You've probably seen them (and worn them) your whole life… tzitzit are found on all tallit katan (and of course, tallit gadol) – from the simple to the most elaborate and beautiful wool and cotton. If you're a young man buying your own for the first time, a new parent needing to buy your son's first tzitzit, or just want to learn more about how to best take care of your tzitzit, keep reading because the we'll answer "Everything you need to know about tzitzit (but were afraid to ask?)!"
Materials
Tzitzit come in a variety of materials. Cotton, wool, mesh cotton, mesh poly, and poly cotton. But what's the difference and what should you purchase? Well, that depends on your lifestyle and of course the climate where you live, skin sensitivities and personal preference.

Mesh
If you live a more active lifestyle, or if the weather where you live runs warm, you may wish to choose mesh cotton or mesh poly, which are more breathable. Bonus when you're a busy man. More on care of your tzitzit later. The brands we carry come in round neck for mesh styles. A nice layered look for sports. An advantage of polyester or poly-cotton blend is also the comfort in the way they hang on the shoulders. For kids especially this may be important. Poly-cotton doesn't "bunch up" or "crunch up" on the shoulders, and it doesn't need ironing. Virtually maintenance-free.
There is now a brand-new technology in tzitzit that we are excited about, called Dri-Tzit which is extremely breathable and you don't sweat in it so it's perfect for active sportsmen. There are snaps on the side for convenience and have features such as built-in pockets to tuck your fringes into when playing sports.
Of course, please consult your Rabbi to discuss permission for non-organic materials such as polyester.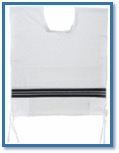 Cotton, wool, mesh cotton
Traditionally though, tzitzit are wool. More modern styles may also be cotton. The difference is weight of the material, comfort on the skin, and ease of care. The main difference between the materials may be more relevant for children or others who may have skin sensitivities. Cotton is more breathable and more comfortable for many children. It's also better for allergies. Care isn't difficult, but cotton and wool both may need ironing after washing. As mentioned previously, children's tzitzit are most commonly made in cotton-poly blends. If your little man wants something a bit more fun to wear, we have an array of kid's designs too!
What size should I get?
Not sure what size you take? Simply take your measurements and check out our sizing charts. Sizes are based on shirt/upper body size, and differ in shoulder and length measurements. Our sizing recommendations are based on over 20 years of experience with our tzitzit customers, so you can be sure to get the right fit!
Neck Style
Truly, for the neck style, again it's by personal preference. Some men like an undershirt style in a crew neck that shows under their formal shirt in a nice layer. Others prefer not to have it showing, or don't like anything too constricting or high up on their neck. This is when v-neck may be preferable.

String Size
Thick or thin strings – that is the question!
Whether you opt for thick or thin tzitzit is primarily a matter of aesthetics and personal choice. Among the Modern Orthodox, you will see both, although thick tzitzit are probably more common. Thick strings offer a bit more durability if the tzitzit are worn out instead of tucked in – with less chance of snapping or tearing. Watch this short video to explain string sizing.
Inquiring mind want to know: Holes or no holes? Strings or no Strings?
There are also available on the market tzitzit "Bli" (without) strings. if you wish to do the mitzvah of tying the strings and doing the brachot, you have that option. The number of holes (2 vs. 1) is a matter of your tradition (i.e. Chasidish – 2 holes).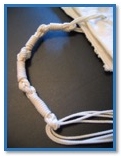 Tying the knot
Did you know there are many different ways to tie the strings? There are essential requirements for the tying of the strings, knots and coils, described in the Gemara and Rishonim, in order to have the tzitzit be kosher (adding up to 613). The customs about how the strings are tied also varies between Ashkenazi Jews, Sephardi Jews, Yemenite Jews and Chabad. There are also different traditions when it comes to the wearing of Tekhelet (the beautiful indigo strings in some tzitzit) and those are explained in Jewish law.
In our North American Jewish community, the most widely used method for tying is the Ashkenazi tradition, which follows the teachings of Rashi (Rabbi Shlomo Yitzchaki). According to Rashi, the Tzitzit strings are tied with double knots that separate four groups of coiled string that include groups of 7, 8, 11 and 13 coilings. Chassidish Jews tend to follow the opinion of Rabbi Yitzchak Luria who is also known as the Arizal. There is also a slightly different variation followed by Chabad. Most tallit and tzitzit katan with pre-tied tzitzit follow the Ashkenazi custom. And, a reminder, a boy over 13 should be the only one tying his tzitzit. However, since young boys have no obligation to wear tzitzit and wear them for chinuch purposes, a woman or young boy can tighten or redo the bottom knots. Ask your Rabbi if you have further questions.
If you'd like to read more about the mitzvah of tying the knots, this website has wonderful and detailed information:
https://halachipedia.com/index.php?title=Tzitzit
What's in a name?
Two of the most popular brands of tzitzit on the market are Keter and Malchut. Choosing a brand is entirely based on preference. Keter runs slightly narrower in the shoulder, and the Malchut runs a bit more full-bodied. Our full sizing charts will help you choose. For children, it's always better to purchase a size up so the child can grow into their tzitzit. It's a matter of comfort.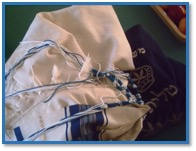 Why so blue? The story behind Tekhelet
About 1300 years ago, the secrets of Tekhelet, the incredible blue color and the identity of the mysterious sea creature – the Chillazon – that produced the dye was lost. Over the past half-century, a convergence of research and discoveries by Rabbis, scientists, archaeologists, and others has led to the conclusive identification of the sea-snail, Murex trunculus, as the authentic source of Tekhelet. We carry Ptil Tekhelet and they have excellent resources on their website about tying, and the history of blue dye used in the tzitzit (https://www.tekhelet.com/).
Care for your Tzitzit
Many of us have tried every idea out there, but when it comes to cleaning tzitzis, we're still mystified… how can you wash your tzitzit without having the strings get tangled or ruined? There are great products available to help make life a bit easier.
Our favorite newish product is the Magen Tzitzit Washing Tzitzit Protector which comes in a handy 4-pack with a bonus extra device. It helps keep your tzitzit untangled in the laundry and makes life so much easier! Check out this excellent demo!

Another handy accessory is the Washtzit Bag which is another must-have for keeping the strings untangled and prevents lint from other items getting on your tallit katan.
You can always dry-clean your garments, but if you opt for home laundering, there are three basic methods. Outlined here, these methods are tried and true. We're happy to help answer any questions you might have for the care and cleaning of your tzitzit to help them stay beautiful, kosher and acceptable.
Now that you know EVERYTHING about tzitzit, you can purchase with confidence at www.judaicaplace.com ! Thanks for stopping by!