Codex Judaica Chronological Index of Jewish History [Hardcover]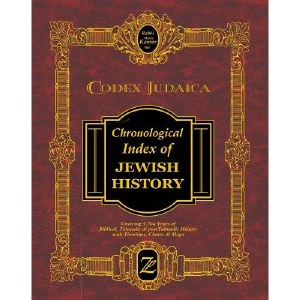 Codex Judaica Chronological Index of Jewish History [Hardcover]
Brand: Zichron Press
By: Matis Kantor
Product ID: 9780967037837

Codex Judaica Chronological Index of Jewish History By Rabbi Mattis Kantor

Product Description
Jewish History of over 5,000 years in a year by year format, with heavy cross-referencing and exhaustive index.
Easy reading - a browsers delight, with little snippets of fascinating facts.

Documents - in a scholarly manner - the ancestral history of Biblical and Talmudic eras, and provides meticulous and erudite bibliography-references.

Hardcover: 394 pages
Publisher: Zichron Press Inc.; 3rd Print Feb 2007 edition (November 1, 2005)
Language: English
ISBN-10: 0967037832
ISBN-13: 978-0967037837
Product Dimensions: 8.4 x 5.4 x 0.6 inches

About the Author: Rabbi Mattis Kantor...

Australian born Rabbi Mattis Kantor studied in Yeshivot in Cleveland, Israel and then New York, where he received Rabbinical ordination from the Yeshiva Tomchei Tmimim in 1966, and a Masters Degree in Educational Administration from Fordham University in 1970. He is a noted author and lecturer who has held a number of educational positions in the United States and Australia. He has recently retired as the rabbi of Congregation Zichron Moshe in Monsey New York, and is currently writing new works.

He is the author of three major works; all have been featured as a MAIN SELECTION OF THE MONTH by the Jewish Book Club in the USA.