Bourch Learns About Purim CD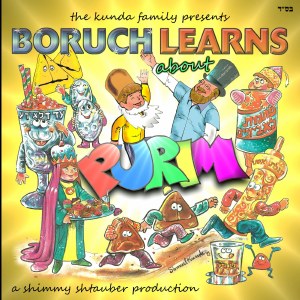 Bourch Learns About Purim CD
By: SHMUEL KUNDA
Product ID: 807676147127

Bourch Learns About Purim CD
By: Shmuel Kunda
Product Description
Click Here for an audio sampler!
Join Boruch and friends for an unforgettable Purim.
The Kunda family presents us once again with another exciting, heartwarming, educational and unforgettable production. Get ready as Boruch and his friends walk us through the story, halachos, and minhagim of Purim by way of whimsical rhymes, witty dialogue and mindblowing songs. Produced with talented producer and noted mechanech R' Shimmy Shtauber.
Enjoy and a freilichen Purim!
Tracks:
1 - Intro (1:09)
2 - Shopping List (2:07)
3 - Shalach Manos (3:08)
4 - Taanis Esther Intro (0:45)
5 - Taanis Esther Song (4:31)
6 - Hymel Hamantash (1:40)
7 - Hamantash Song (3:36)
8 - Mr. Krause (3:05)
9 - Costume Song (4:30)
10 - Mrs. Geffen (2:30)
11 - Ad Delo Yoda (2:59)
12 - Gershy Gragger (1:15)
13 - Megillah Song (5:44)
14 - Osher the Kvetch-Up (1:50)
15 - Tzedaka Song (2:55)
16 - Slippery Jake (1:30)
17 - Manos Delivery Song (3:13)
18 - Purim Seudah (0:58)
19 - Kunda Nostalgia Medley (13:48)
20 - Ending (1:28)
Format: CD
Release Date: 20th February 2017