Yair Emanuel Wooden Grogger - Jerusalem Design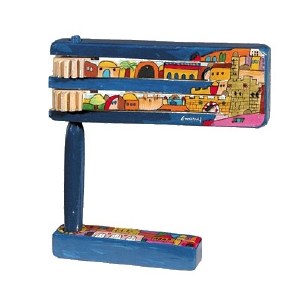 Yair Emanuel Wooden Grogger - Jerusalem Design
Brand: Yair Emanuel
By: Yair Emanuel
Product ID: EMGR1

Yair Emanuel Wooden Grogger - Jerusalem
By: Yair Emanuel

Product Description
These amazing groggers not only enable us to block out Haman's name with their noise, but they're also beautiful pieces of Judaica! The grogger and stand are both decorative and functional with the stand offering a place for the grogger to rest upright while not in use. The stand and grogger are both brightly colored with the same motif. The grogger is made of a rectangular piece of wood attached to two wooden wheels that spin against the main piece to make a loud grinding sound. Holding the main part and wheel together is the grogger handle made of painted blue wood. The design on the grogger and stand features the holy city of Jerusalem and the Western Wall with a beautiful night sky.
The pieces are hand-painted wood, covered with three layers of lacquer.

This fabulous Purim grogger is the perfect gift for Purim, Bar and Bat Mitzvahs, for your children and grandchildren.

Size: 6.7" X 6.7" X 1.6"