Decorative Dreidel on Base Red Anodized Aluminum with Silver Colored Metal Cutout Floral Design Size Medium by Yair Emanuel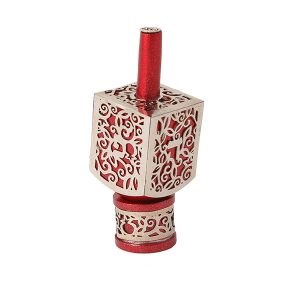 Decorative Dreidel on Base Red Anodized Aluminum with Silver Colored Metal Cutout Floral Design Size Medium by Yair Emanuel
Brand: Yair Emanuel
By: Yair Emanuel
Product ID: EMDRK6

Decorative Dreidel on Base Red Anodized Aluminum with Silver Colored Metal Cutout Floral Design Size Medium by Yair Emanuel
By: Yair Emanuel

Product Description
- Add color and style to your Chanukah table or breakfront!
- Decorative dreidel stands on matching base
- Features floral designed silver metal cutout
- Perfect Chanukah gift!

- Material: Anodized Aluminum
- Color: Red and Silver
- Size: Medium
- Dimensions: 2.6" x 1"
- Artist: Yair Emanuel

About the Artist:
In his Studio, located in Jerusalem, Emanuel designs various Judaica products.
The designs are based upon a fusion of traditional motifs and ancient Jewish manuscripts with modern and oriental art.

Vivid and harmonious colors as well as a mixture of the old and the new, characterize Emanuel's work.

The artist, Yair Emanuel, designs and crafts in many different techniques. Among his techniques are hand embroidery, painting and a variety of laser cut designs.