Candlesticks Poly Multicolor Fountain Design 14" Designed by Yair Emanuel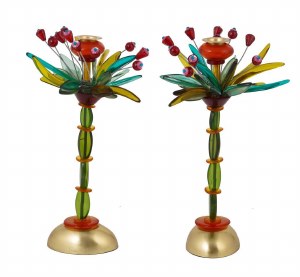 Candlesticks Poly Multicolor Fountain Design 14" Designed by Yair Emanuel
Brand: Yair Emanuel
By: Yair Emanuel
Product ID: EMEML9A

Candlesticks Poly Fountain Design Greens/Reds 14"

Product Description
These whimsical candlesticks are brimming with beads, resembling a colorful fountain. They are sure to enhance the candlelighting experience, as you usher in Shabbos.

Material: Polymer/Metal Base
Color: Greens/Reds
Height: 14''

About the Artist:
In his Studio, located in Jerusalem, Emanuel designs various Judaica products.
The designs are based upon a fusion of traditional motifs and ancient Jewish manuscripts with modern and oriental art.

Vivid and harmonious colors as well as a mixture of the old and the new, characterize Emanuel's work.